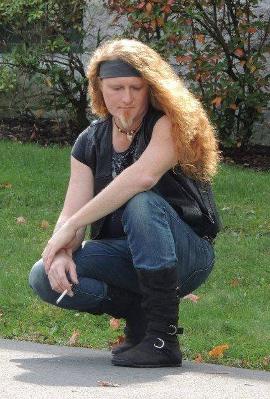 Since August 2008, William "Billy" Loney, owner/founder of Keep it Metal promotions, has been a force on the music scene, supporting the world of unsigned/indie metal.
We are the hub where bands, fans, radio, webzines & more come together!
IT'S ALL ABOUT THE MUSIC!
WANT AIRPLAY FOR YOUR BAND ? MESSAGE US FOR MORE INFO!!
REVIEWS:
Billy!! Just want you to know what an Awesome job you did on the Hard N Heavy Interview with michele...and
Thank you for all the Rockin' Metal you Feature...You Are one Kickass Promoter!!!! > Keepin' it Real <
From: Loud n Loaded promotions
"A powerful talent who brings out the best in everyone,
Motivated inteligent, loving, and all inspiring, I value you in my Network,"
From: Neil Hoag
"Billy is the best at promoting independent rock music!
Band's, you can never go wrong if you work with Billy!"
From: Tina Anderson
"With Murdock's Trinity Records, we have known Billy for years from the MySpace days!
Billy always involved in great projects + all metal!"
From: Todd Murdock
"MAN....JUST WANTED TO LET YOU KNOW THAT I THINK WHAT YOUR DOIN IS GREAT!
IF FOR NOTHING ELSE, JUST FOR THE PURE LOVE OF THE MUSIC! SO MANY OF US ARTIST'S STRUGGLE FROM DAY TO DAY
JUST WANTING TO BE HEARD...JUST WANTING FOR OTHER'S TO FEEL WHAT WE FEEL THROUGH OUR EXPRESSIONS THAT
WE CAN ONLY RELEASE THROUGH OUR WORDS AND OR MUSIC...AND THERE YOU ARE HELPING TO PROMOTE WHAT MEANS
SO MUCH TO US! HORNS HIGH TO YOU GUY! I'VE NEVER MET YA BUT I HAVE ALOT OF LUV AND RESPECT FOR YOU...
THANK YOU FOR EVERYTHING THAT YOU DO FOR ALL OF US! PEACE OUT"
From: Tammy
Some days I really have a hard time and I have taken you into my trust zone where few have ever been, and you listen,
and you really care about people.
You have been the glue that held me together, brought me back to a place where I could keep trying, and I wanted to give up.
Thank you isn't enough. I know you are busy, you have tons of friends, and yet you take time for me.
I just hope you know that I have a few folks I keep tabs on, make sure they are doing ok, and then there is you.
I appreciate you.
This world is better because of you.
I smile cause you are that one person that makes a difference. so many goals, worthwhile causes, and you have never complained.
From: Deborah