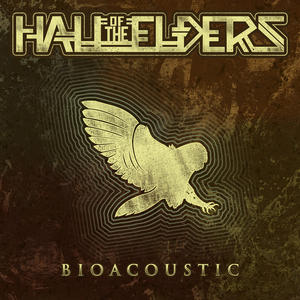 Metal heads, head bangers, hardcore dancers, moshers and rockers - come one, come all and hear the next prophetic voice of metal. Hall of the Elders brings a powerful message behind the driving force that is their new EP Bioacoustic. The cd is a MUST have for any true lover of metal.
Now don't be fooled by the gentle opening of "Option 2," its only a few seconds before the guitars will rip into your mind as the beat picks up fast and before the end of the first verse, your body will cry for movement. Bringing screaming guitars, powerful vocals and mesmerizing electronics right to your soul only to begin encompassing your body with the driving beats and killer breakdowns. As your mind realizes the power of the music, "Run Moment Preez" will begin driving your body without your knowledge. The cd then continues to drive into your memory with "The Cabin Boy," "Don't Mess with the Mayor" and "Animal," pounding Hall of the Elders deep into your subconscious.
While "Animal" may conclude Bioacoustic, the driving beat and music will play on even after the cd has stopped playing. There is certainly much more to come from these guys and you will want to have a copy of metal history. Find them on facebook, find them on their webpage or find them in Georgia; I promise you will not be disappointed.
By Adam AJ Janes
Keep it Metal promoitons
Members:
Mark Jackson
Nick McLendon
Jonah Edwards
Keven Hammonds-McArthur
Look for HALL of the ELDERS on these sites